If you are looking for an activity to do with kids, or a group of friends, then this maybe for you!
Bounce Below is the first of its kind in the world; It is a giant network of underground trampoline like nets and slides situated in a former slate mine, Llechwedd Slate Caverns, Blaenau Ffestiniog, North Wales. You can climb, bounce, jump and slide yourself silly; bringing out the kid in everyone.
Now I'm not super fit but I am active, so when I was booked onto this with a group of friends I was apprehensive to say the least!
At first glance it is a little daunting, I am scared of heights and I did nearly chicken out but once you find your bearings and take the steps onto the first level you just go with the flow, trust me, some people jump, some stumble (I did a lot!), some cling to the side netting (I did that too!) but somehow within minutes I was stumbling around the edges,  so my adventure began, and it wasn't too long before I was bouncing, climbing and dropping through the chutes and laughing/smiling all the way along.
A group of 19 with a mix of fitness levels and all had a great time, even though some were more fearless than others!
Things you need to know:
For £20 (groups of 16 plus receive a 10% discount when pre booked) you get an hour to bounce underground in a 176-year old disused cavern, that is twice the size of St Paul's Cathedral.
The minimum age to participate in Bounce Below is 7 years old, for children aged between 3-6yr there is Bounce Below Junior.  Children under the age of 18 years will not be permitted to use any activity unless accompanied by a participating adult at all times.
We pre booked our slot and It is advised to do so.
There is a strict dress code, and if you haven't the appropriate clothing you are given a red boiler type suit.
Your arms and legs need to be covered.  We were advised to wear clothes that we weren't bothered to get dirty or damaged and trainers. We wore jeans and jumpers/hoodies, and I don't think any in our group damaged anything!
Now it is underground and it is cold and damp, but when you start the bouncing you do get hot!
You are advised to arrive 30 minutes before your scheduled booking time for registration.  Once you are registered you will be given a safety talk and issued with a helmet and boiler suit if you need it.
We found it all to be very well organised .
We were told to leave our belonging in the car,  you can leave you keys with a member of staff behind reception if you don't have a spectator with you, however they do not take any other items (handbags, wallets/purses etc).
It is worth taking a bottle of water with you, or there is a drinks machine down there, so if you have a zip up pocket, take a couple of pound for a drink – Bounce Below is thirsty work!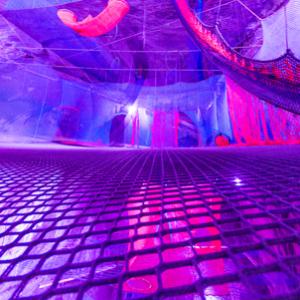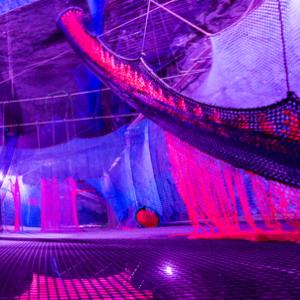 After the safety talk you are walked a short distance through a tunnel and you arrive at bounce below.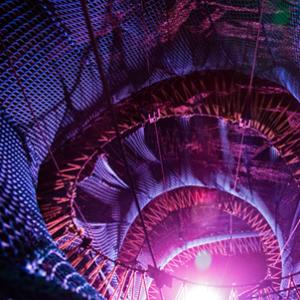 The overall experience was fantastic, bouncing around, climbing up nets and sliding down slides. Some level of fitness is required, It is tiring climbing all the way from the bottom to the top of the cavern.
If you don't fancy it but don't want to miss out on the experience with your group you can pay £5.00 to spectate.  There are seats and a drinks machine.  If you are spectating wear warm clothes!
How to find Bounce Below –
From Manchester / Liverpool, leave the A55 at junction 19, take the A470 exit sign posted Betws-y-coed/Llandudno. At the roundabout, take the first exit following the A470 towards Betws Y Coed. After approximately 15 miles turn right (but continuing on the A470) towards Dolgellau/Blaenau Ffestiniog.  Follow the road until you see the Llechwedd Slate Cavern sign – on your left.
From mid / South Wales, follow the A470 towards Porthmadog and then take the road to Blaenau Ffestiniog. At the mini roundabout take the first exit on the A470 towards Betws-Y-Coed.  Llechwedd Slate Cavern sign will be on your right before reaching the top of the pass – shortly after leaving Blaenau Ffestiniog. Grid Ref: 698-474 (turning for slate caverns)
There is plently of free parking, toilets, a café, sweet and gift shop, and picnic benches.
There isn't just Bounce Below on the site, there are  –
I can't wait to go again!